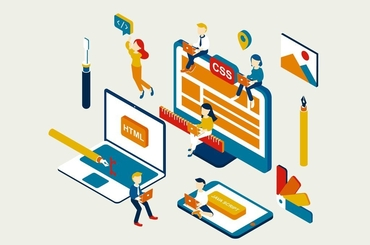 Web Development
12 Weeks Journey in Web Development
₹ 15,000₹ 1,250
"Web development is the building and maintenance of websites; it's the work that happens behind the scenes to make a website look great, work fast and perform well with a seamless user experience."
The field of web development is generally broken down into front-end (the user-facing side) and back-end (the server side).
Why Learn Web Development?
The computer powered revolution has left every area of society untouched which leaves businesses both big and small seeking to enter into the web arena. There is a surplus of opportunities for web developers to dominate.
A Few reasons to learn Machine Learning:
A Great Income.
No Wasted Time in Learning How to Code
You Can Work From Anywhere
There Are Always Freelance Opportunities
You Can Work at an Awesome Tech Company
Course Highlights
⚡&nbsp 12 Weeks Live Classes
⚡&nbsp Highly Professional & Experienced Trainers
⚡&nbsp 21st Century Innovative Practical Learning
⚡&nbsp 2 Industrial Projects
⚡&nbsp Globally Verified Certification
⚡&nbsp Assured Techox Goodies to Best Students
⚡&nbsp Lifetime Community Access
⚡&nbsp 100% Placement & Internship Assistance
⚡&nbsp 24*7 Doubt Clearance
Projects
Portfolio Website
Online Grocery Store